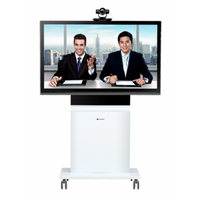 RP200-55S RoomTelepresence
Model: RP200-55S

Introduction
Huawei Room Presence series (RP) are compact system with HD codec, camera, display and microphone array.
Flexible choice: 46/55-inch single and dual displays Flexible deployment: pedestal stand, pedestal stand with wheels • 1080p HD video creates
face-to-face video communication
CD-quality audio with AAC-LD
High quality with up to 20% of packet loss and low bandwidth requirement (1080p @ 512 k)
Remote control or easy-to-use 10-inch PAD with GU
Product Features:
Next-Generation Technology for Superior HD Experience at Lower Bandwidth

Supports Video Motion Enhancement (VME) and H.264 HP; saves 50% of bandwidth.
Proprietary VME combined with intelligent face recognition and video image processing helps RP adapt to different lighting conditions, reduce bandwidth consumption, and enhance video quality.
Ease of Use
With an innovative and well organized GUI (Graphical User Interface), HUAWEI Room Presence series enable users to operate the system easily and efficiently.
Voice Dialing
RP recognize multiple languages. You can call or join a conference by saying the name of the scheduled conference or the site name.
Outstanding Network Adaptability and Security Mechanism

Patented Super Error Concealment (SEC) ensures high-quality video experience even with packet loss of 20 percent.
Supports H.264 SVC to adapt to different bandwidths, device capabilities, and network requirements.
Standard H.460 and proprietary SNP technology guarantee secure firewall traversal.
H.235 media stream and signaling encryption; SRTP, TLS, and HTTPS encryption.
Flexible Options
Multi size (55", 46") displays for selection.
Single and Dual displays for selection.
Flexible deployment: pedestal stand or pedestal stand with wheels.
Product Specification

RP100-46S
RP200-46S
RP100-55S
RP200-55S
System Components
HD Codec, built-in camera and VPM220, display and remote control
Codec
HD Codec
Camera
1080p built-in camera
Microphone
1 × VPM220
Display
1 × 46"
2 × 46"
1 × 55"
2 × 55"
Dimensions (H x W x D)
5'6" x 3'6" x 1'7" feet
(1692 x 1080 x 500mm)
5'6" x 7'1" x 1'7" feet
(1692 x 2170 x 500mm)
5'10" x 4'1" x 1'7" feet (1782 x 1270 x 500mm)
5'10" x 8'3" x 1'7" feet
(1782 x 2550 x 500mm)
Weight
132 lb (60 kg)
176 lb (80 kg)
143 lb (65 kg)
216 lb (90 kg)
Power Supply
100V~240 VAC, 50/60 Hz
Power Consumption
147 w
247 w
177 w
307 w
Standard & Protocols
Standards and Protocols
ITU-T H.323, IETF SIP
Video Standards & Protocols
H.263, H.263+, H.264 BP, H.264 HP, H.264 SVC
Audio Standards & Protocols
G.711, G.722, G.728, G.722.1*, G.722.1C*, AAC-LD, HWA-LD
*: G.722.1/G.722.1C, licensed from Polycom®
Dual Stream
ITU-T H.239, SIP
Other Standards
H.221, H.225, H.230, H.231, H.233, H.234, H.235, H.241, H.242, H.243, H.245, H.281, H.283, H.350, H.460, T.140
Network Standards & Protocols
TCP/IP, FTP, FTPS, DHCP, SNMP, Telnet, SSH, HTTP, HTTPS, PPPoE, RTP, RTCP, SNTP
Video Specifications and Features
People Video Resolution
1080p (25/30fps), 720p (50/60fps), 720p (25/30fps)
Dual Stream
Dual 1080p; Dual 720p @ 30 fps
1080p HD Camera
Lens: 2-megapixel and 1/3-inch CMOS imaging chip
Zoom: 12x optical
Maximum horizontal angle: 72°horizontal field of view
Panning/Tilting angle: +/-30° tilt, +/- 100° pan
Automatic White Balance (AWB), Automatic Exposure (AE), Automatic Focus (AF)
Far-end camera control
Other Video Features
Intelligent Face Detection
Picture in Picture
Picture outside Picture
VME (Video Motion Enhancement)
Video Intensifier
View Processing
Audio Specifications and Features
Audio features
Dual-channel AAC-LD Stereo
Acoustic Echo Cancellation (AEC)
Acoustic Noise Suppression (ANS) 12 dB
Automatic Gain Control (AGC) ±6 dB
Voice Clear, Audio Enhancer
Lip synchronization
Security and Stability
Network
Super Error Concealment (SEC), Intelligent Rate Control (IRC)
Automatic Repeat-reQuest (ARQ), Forward Error Correction (FEC), PLC
Security
H.235 signaling and media stream encryption
AES media stream encryption, dual-stream encryption
TLS and SRTP for SIP signaling and media stream encryption
Conference access password, conference control password
Administrator password, SSH/HTTPS
Firewall Traversal
H.460.18, H.460.19 firewall traversal, Static NAT, SNP
Interfaces
Audio Inputs
1 x 3.5 mm line-in jack, 1 x HD-AI (stereo, connects to microphone array )
Audio Outputs
1 x 3.5 mm line-out jack, 1 x HDMI
Video Inputs
1 x VGA, 1 x Built-in Camera
Video Outputs
1 x VGA/YPbPr, 1 x HDMI
USB Interfaces
1 x USB 2.0 Host
Network Interfaces
IP: 10/100 Base-T, 1 x RJ45
Wireless: Built-in Wi-Fi
Application Features
Languages
Simplified Chinese, Traditional Chinese, English, German, Spanish, French, Norwegian, Italian, Polish, Russian, Portuguese, Hungarian, Finnish, Romanian, Czech, Swedish, Arabic, Turkish, Greek
Special Features
Voice Dialing in English and Chinese
Installation from a USB disk, Plug and play
Integration with Microsoft Lync2010™ and OCS2007R2
Hybrid with IMS network
IPv6
Wi-Fi
SiteCall
Lock Site/Conference
Web-based conference management
Web-based image monitoring and HD picture snapshot
16:9 and 4:3 mixed display
Picture-in-picture: 1/16 picture size, optional position
Split output: Bi-screen and tri-screen display
LDAP/Network address book
API for integration
Digital Caption
Caption banner, body text and information bar
Rolling display mode of the speech draft
Modifiable front background color, caption size and transparency
64 optional colors
Editable caption and auto zone adjustment
Caption rolling mode setting
Site name display and position shift
Text input through remote control
External character generator
Powerful caption SMS function
Approval and Compliance
Approval and Compliance
CE, CCC, FCC, UL
Environmental Specification
Environmental Specification
Operating Temperature: 32 to 104ºF (0º C to 40ºC)
Operating Humidity: 10 to 80%
Peripheral noise: < 46 dBA SPL
Lowest luminance: 7 lux
Recommended luminance: > 300 lux
Model Recommendation
RP100-46S
RP200-46S
RP100-55S
RP200-55S
System Components
HD Codec, built-in camera and VPM220, display and remote control
Codec
HD Codec
Camera
1080p built-in camera
Microphone
1 × VPM220
Display
1 × 46"
2 × 46"
1 × 55"
2 × 55"
Dimensions (H x W x D)
5'6" x 3'6" x 1'7" feet
(1692 x 1080 x 500mm)
5'6" x 7'1" x 1'7" feet
(1692 x 2170 x 500mm)
5'10" x 4'1" x 1'7" feet (1782 x 1270 x 500mm)
5'10" x 8'3" x 1'7" feet
(1782 x 2550 x 500mm)
Weight
132 lb (60 kg).
176 lb (80 kg)
143 lb (65 kg)
216 lb (90 kg)
Power Supply
100V~240 VAC, 50/60 Hz
Power Consumption
147 w
247 w
177 w
307 w