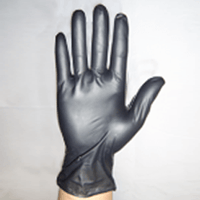 Hongray Colored PVC gloves (black)(100 gloves)
10K        PCS      0.048$
100K      PCS      0.044$
1000K    PCS      0.042$
5000K    PCS      0.04$
10000K  PCS      0.038$
Description:
This product has passed US FDA certification and EU CE certification.
It is made of synthetic PVC material and does not contain proteins in latex that are likely to cause human allergy. Those who have allergic reactions to latex gloves can use this product.
Selected formula, advanced technology, soft hand feeling, comfortable anti-skid, flexible operation.
Applicable to many aspects such as medical examination, dentistry, first aid and nursing. Non-toxic, harmless and tasteless.
The powder-free gloves use a special powder-free process for more thoughtful protection.
This product is disposable gloves.
Packing:
According to customer needs
Variety:
No powder, natural color, blue, green, black
Model:
XS No  S No  M No  L No  XL No