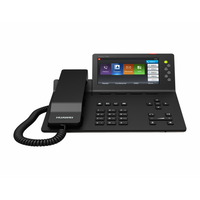 Model: EP1Z02IPHO
Product Features
Incredibly thin design, ushering in a simple and stylish work style
Compared to traditional clumsy IP phones, eSpace 7900 series offers users a neat and trendy experience with its sleek, state-of-the-art design.'
Crystal-clear, full-band high-definition (HD) audio performance, perfectly reproducing high-fidelity sound
Based on deep insights into acoustics, Huawei has created revolutionary audio technology for eSpace 7900 series to deliver exceptional voice quality.
Ergonomic design, delivering a user-friendly experience
Based on an in-depth analysis of user habits, Huawei has created an elegant, ergonomic design for the phone handset with an adjustable phone base, culminating in a comfortable tactile feel and optimal view.
Gigabit Ethernet (GE) ports and color screen, your best choice for a cost-effective IP phone
Color-screen eSpace 7900 series is equipped with GE ports and supports Advanced Audio Coding-Low Delay (AAC-LD) full-band voice codec. These features well support bandwidth-hungry services, making eSpace 7900 series the select choice as cost-effective IP phones for enterprises.
Consistent experience with other terminals, allowing for superb user experience across different platforms
eSpace 7900 series uses the same design style of User Interface (UI) as other Huawei Unified Communications (UC) terminals. This ensures consistent and easy user experience.