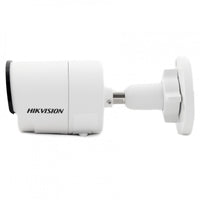 Hikvision DS-2CD2055FWD-I 5MP Mini Bullet Network Camera
Quick Overview
The Hikvision DS-2CD2055FWD-I is a 5MP mini bullet camera that is available in either a 2.8mm, 4mm or 6mm fixed lens. This camera comes fitted with infra-red LEDs that are effective up to 30m and IP67 rated weatherproof housing.

The DS-2CD2055FWD-I also comes with a built in bracket that has 3-axis adjustability so there is a lot of flexibility if you need to cover a wide area. The image is improved using back light compensation (BLC) and 3D digital noise reduction technology (3D DNR). The DS-2CD2055FWD-I also utilises smart features such as motion detection, line crossing detection and intrusion detection to improve security even further.

Fitted with Hikvision's H.265+ video compression, the on board SD card slot can be used without worry of using up the memory so quickly. This camera can be powered by 12VDC power supply or PoE, it can be accessed remotely through a browser or by using the Hik-connect app.
Key Features
- 5MP resolution
- 2560 x 1920
- Maximum 20fps
- Range of focal lengths available
- H.265+, H5.265, H.264+, H.264
- 120dB Wide dynamic range
- 3D digital noise reduction
- 30m IR range
- Micro SD card slot, supports up to 128GB of on board storage
- IP67 rated weatherproof housing
- Line crossing detection
- Intrusion detection
- Face detection
| | |
| --- | --- |
| Image chip size | 1/2.9" |
| Image chip type | Progressive Scan CMOS |
| Image Compression | H.264/H.265/MJPEG |
| Audio | N/A |
| Indoor / Outdoor | Indoors or Outdoors |
| Ingress Protection | IP67 |
| Colour / monochrome | True Day/Night |
| POE built-in | Yes |
| POE Class | Class 3 (6.49-12.95W) |
| Max. Resolution | 2560 X 1920 |
| Min. low-light lux | 0 Lux (IR LED ON) |
| Lens Mount | M12 mount |
| Aspect ratio | 4:3 |
| Megapixels | 5 MP |
| Supplied with lens | Yes |
| IR Range | Up to 30m |
| Max. Images per second | 20 |
| ONVIF Compatible | Yes |
| Power Consumption | max. 7W |
| Warranty | 3 Years |
| Launch Date | Spring-Summer 201 |