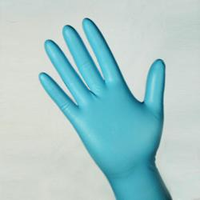 Hongray Nitrile gloves (100 gloves)
10K        PCS      0.088$
100K      PCS      0.086$
1000K    PCS      0.084$
5000K    PCS      0.082$
10000K  PCS      0.08$
Description:Nitrile gloves are made of synthetic nitrile rubber. Compared to latex gloves, nitrile gloves have superior puncture resistance, anti-bacterial penetration, chemical resistance and long-lasting wearability. It can provide users with safer protection. At present, nitrile gloves are widely used by major European and American laboratories, research institutes, hospitals, clinics, nursing homes and other medical institutions, and have been highly praised by users.
1.100% nitrile rubber will not cause the skin allergy problem of latex to human body.
EU CE certification, EU EN-374 anti-chemical ability certification, US FDA certificate, US CHEMO (anti-cancer chemotherapeutics 3. French drug contact safety) certification
Good protection and physical properties, better than latex gloves.
The powder-free gloves use a special powder-free process for more thoughtful protection.
More superior anti-puncture ability, anti-bacterial penetration ability and chemical resistance ability.
Long-wearing, numb surface, more flexible operation. Soft and comfortable to wear.
Tapered cuffs are easier to wear and operate.
Non-toxic, harmless and tasteless. Selected formula, advanced technology, soft hand feeling, comfortable anti-skid, flexible operation.
Applicable to many aspects such as medical examination, dentistry, first aid and nursing.
This product is disposable gloves.
Packing:
According to customer needs
Variety:
Model:
XS No S No  M No  L No  XL No