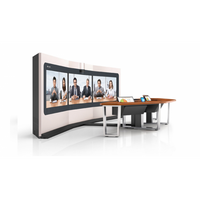 TP3106-70 Immersive Telepresence Solution
Model: TP3106-70
Huawei TP3106-70 is the new generation immersive Telepresence with a brand new codec, panoramic camera and 70-inch display system. It provides true-to-life dimensions of six participants, which is an ideal option for the dedicated conference rooms.


The new generation immersive Telepresence with Huawei patented panoramic camera
The industry-leading Telepresence engine: three-in-one integrated codec, powerful encoding and decoding capability, ultra-low bandwidth, and resilience to packet loss
3×70-inch displays provide life-size and ultra-HD experience
3×22-inch tabletop displays support 1080p60 HD content
Supports up to six people for a video conference and ten people for a local conference
Easy-to-use 10-inch PAD with GUI
Features
Immersive Experience With HD Video and Directional Sound

HUAWEI TP3106-70 offers real-life telepresence experience at lower bandwidth by VME(Video Motion Enhancement ) and H.264 HP(High Profile) dual core drive. We have combined the best of video, audio and collaboration technologies to deliver dual 1080P resolution for video stream and content sharing. With 6 MICs and AAC-LD triple-tracks-broadband audio , HUAWEI TP3106-70 brings you the perfect telepresence experience.
Ease of Use
With an innovative and trendy touch screen GUI (Graphical User Interface), HUAWEI TP3106-70 employs a 10-inch touch panel for the conference control, providing an intuitive interface for users to operate the system.
Unmatched Network Adaptability and Stability
IP technology is evolving, but there are always times that the live video quality is undermined due to QoS issues. With SEC (super error concealment ) and H.264 SVC (scalable video coding) technology, HUAWEI TP3106-70 is able to keep producing good video quality even if there are significant packets loss or low bandwidth, latency and jitter over the network.
High Interoperability and Reliability
Huawei develops standard-based telepresence system, making sure it's highly interoperable with mainstream telepresence equipments, including telepresence based on TIP.

People now tend to concern more about the security of videoconference call, and Huawei has the solution to address the problem. HUAWEI TP3106-70 adopts standard-based H.235 and AES encryption techniques to ensure that your videoconference call is well protected from malicious hacking and sniffing. The device configuration and setup is locked by admin password to avoid any misplay.
Application
Specification
Standards compliance
Communication framework protocols
ITU-T H.323
IETF SIP
Video protocols
Protocols: H.263/H263+, H.264 HP, H264 BP, and H.264 SVC
Audio protocols
AAC-LD (mono, dual-channel, and three-channel), G.722, G.711, and G.728
Presentation protocols
H.239 and BFCP
Encryption protocols
AES media stream encryption
H.235 signaling encryption
TLS
SRTP
Network transmission protocols
TCP/IP, FTPS, DHCP, SNMP, HTTP, HTTPS, Telnet, SSH, PPPoE, RTP, and RTCP
Resolution
Video resolutions
1080p50/60, 1080i50/60, 1080p25/30, 720p50/60f, 720p30, 4CIF/4SIF, 2CIF/2SIF, and CIF/SIF
Presentation resolutions
Presentation VGA input resolutions: 800 x 600 60/75 fps, 1024 x 768 60 fps, 1280 x 768 75 fps, 1280 x 800 60 fps, 1280 x 1024 60/75 fps, 1366 x 768 60 fps, 1440 x 900 60 fps, 1400 x 1050 60 fps, 720p 60/75 fps, 1080 60 fps, 1600 x 900 60 fps, 1600 x 1200 60 fps, 1680 x 1050 60 fps, 1920 x 1200 60 fps
Presentation HDMI resolutions: 720p 60 fps and 1080p 60 fps
Bandwidth
Conference bandwidth
720p 30 fps: 2.3 Mbit/s at minimum; 3 Mbit/s recommended
720p 60 fps: 3 Mbit/s at minimum; 4.5 Mbit/s recommended
1080p 30 fps: 3 Mbit/s at minimum; 4.5 Mbit/s recommended
1080p 60 fps: 6 Mbit/s at minimum; 9 Mbit/s recommended
Co-optical-
center camera
Structure
Integrated structure with three built-in HD video camera lens
Resolution
3 x 1080p 50/60 fps
Angle of view
> 90°
Screen
HD display
Size: 70 inches
Resolution: 1920 x 1080 pixels
Touch panel
Size: 10 inches
Resolution: 1920 x 1200 pixels
Tabletop display
Size: 22 inches
Resolution: 1920 x 1080 pixels
Environmental requirements
Temperature range
Operating: 0°C to 35°C
Storage: –20°C to +60°C
Relative humidity
20% to 80% (non-condensing)
Altitude
< 3 km
Reverberation time
0.3s to 0.5s
Ambient noise
≤ 43 dBA SPL (noise in the area between microphones and seats)
Recommended luminance
300 lux (illuminance per person)
Recommended color temperature
4000 K
Conference room dimensions
(H x W x D)
Minimum: 6400 mm x 4090 mm x 2440 mm (251.97 in. x 161.02 in. x 96.06 in.)
Recommended: 8000 mm x 4590 mm x 2700 mm (314.96 in. x 180.71 in. x 106.30 in.)
Power and power supply
Input voltage
100–240 V AC, 50 Hz or 60 Hz
Power
< 1.59 kW
Physical specifications
Dimensions
(H x W x D)
5800 mm x 3040 mm x 1850 mm (228.35 in. x 119.69 in. x 72.83 in.)
Weight
< 900 kg