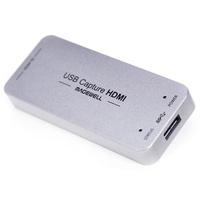 Magewell USB Capture HDMI Gen2 - USB 3.0 HD Video Capture Dongle Model 32060 (Replaces XI100DUSB HDMI)
For your HDMI recording and streaming needs, this dongle has you covered with resolutions up to 1920 x 1200 at 60p, auto and manual up- or down-scaling, frame rate conversion, and de-interlacing in real time with its own hardware, for a process that's light on your CPU and heavy on functionality.

This unit uses the drivers your computer already has, requiring no additional installs or downloads, meaning it will work with any software that you're already working with. And in the event that you don't have a USB 3.0 port available, which this device is optimized to use, a USB 2.0 port will do the trick, even if that does mean some restrictions in resolution and frame rate due to bandwidth limits.

If you run into trouble, the device has an excellent one-click troubleshooting system to capture all the relevent info for tech support, making it easier than ever to get things up and running once again.

Compatible with various USB 3.0 chipsets; Compatible with expended USB 3.0 via PCIe Gen1.1 x1; Compatible with USB 2.0; Compatible with Windows; Compatible with Linux; Compatible with Mac OS X; Support up to 1920x1200p60 (CVT-RB) Video Input; Compatible software: Windows: Amcap, Adobe Flash Media Live Encoder, Adobe Connect, Camtasia Studio, Discover Video Multimedia Encoder, Discover Video Streamsie, Google Plus, Hangouts, Gotomeeting, Graphedit, GrandVJ, Livestream, Meridix Broadcast Producer, Microsoft Lync, OBS (Open Broadcaster Software), Presentations 2Go, Quicktime Player, Real Producer Plus, Resolume, Skype, Skype for business, Streambox, Streamstar, Vidblaster, Video Stitch, Vidyo, VirtualDub, VLC, Vmix, Watchout, Windows Media Encoder, Wirecast, XSplit Broadcaster, XSplit Gamecaster, Zoom.us; Linux: Adobe Connect, Gstreamer, Google Plug Hangouts, OBS (Open Broadcaster Software), VirtualDub, Video Stitch, VLC(VideoLAN Client), Zoom.us; Mac OS X: Adobe Flash Media Live Encoder, Adobe Connect, CoGe VJ, Discover Video Streamsie, Gotomeeting, GrandVJ, MadMapper, mimoLive, OBS (Open Broadcaster Software), QuickTime Broadcaster, QuickTime Player, Resolume, Skype, Streambox, Video Stitch, VirtualDub, VLC, Wirecast, Zoom.us Custom proprietary cables are included with this product at no extra charge. There is no need to purchase extra cables. We do not warrant that cables by another manufacturer will work with this product.

• Capture footage in real HD
• Compatible with Windows
• Compatible with Linux
• Compatible with Mac OS X
• Plug and Play
• Support UVC Protocol
• Up/down Scaling
• Deinterlacing
• Image Control
• Various Output Color Spaces
• Firmware Upgrade
• Compatibility with Software
• Continuously Work for 24h x7
• Multiple devices on one host
• 1-year Warranty